Many who suffer the symptoms of Dry Eye may have Meibomian Gland Dysfunction (MGD). LipiView® (dynamic Meibomian imaging) is used to determine whether or not you suffer from MGD. If you have Meibomian Gland drop out, how is the condition treated?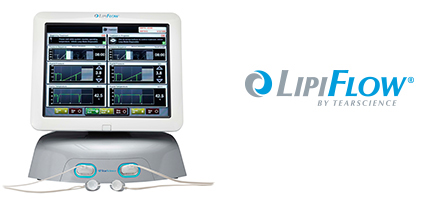 LipiFlow® (vectored thermal pulsation MGD treatment) is designed to treat the root cause of evaporative dry eye disease caused by MGD, by unplugging the blocked meibomian glands. It is a very safe option with over 150,000 treatments performed in the US to date. Opening and clearing these blocked glands will allow them to resume their natural production of lipids (oils) needed for a healthy tear film. A disposable activator is placed on each eyelid. These eyepieces use a patented, precisely controlled heat that is applied to the inner eyelid with pulsed pressure to unblock the glands. This system also encourages the glands to resume their natural production of the lipids needed for healthy tears. Its single-use design and built-in sensors ensure a safe, sterile treatment. The spa-like process is pain free, very soothing, and lasts approximately 15 minutes. This treatment is usually recommended once a year. LipiFlow is the only FDA-cleared thermal pulsation treatment for MGD
From November 15th - December 31st, 2017, the manufacturer of Lipiflow is offering a $50 rebate for patients who receive a treatment (restrictions apply). If you would like to take advantage of this rebate, please follow the instructions found on the manufacture's website, found here, to redeem.
$50 Rebate for LipiFlow® Treatment Marketing Survey
Matossian Eye Associates is a Certified Center of Excellence for Dry Eyes, featuring outstanding services offered by nationally recognized doctors. For a consultation on the root causes of and the best treatments for your dry eyes, please call our toll-free number at 1-800-708-8800 or visit us at www.matossianeye.com.